Our Essential Guide to CBD
What exactly is CBD
CBD is a chemical non-psychoactive compound extracted from the plant species Cannabis Sativa. The two primary species from Cannabis Sativa are Hemp and Marijuana plants.
There are over 100 cannabinoids found in Cannabis Sativa, where Cannabidiol CBD are the second most known of these and which were discovered in 1940.
The word cannabinoid refers to every chemical substance, regardless of structure or origin, that joins the cannabinoid receptors of the body and brain and that have similar effects to those produced by the Cannabis Sativa plant.
Cannabinoid receptors are located throughout the body and are part of the endocannabinoid system, which is involved in a variety of physiological processes including appetite, pain-sensation, mood, and memory.
CBD can be sourced from both Hemp and Marijuana plants. Hemp is often bred to be high in CBD and most products available online are sourced from Hemp. CBD are found throughout the leaves and flowers of the plant. CBD is a naturally occurring substance that is used in various products.
CBD oil and Hemp oil are different products. CBD is extracted from the entire hemp plant, while Hemp oil is extracted from hemp seeds. There are no cannabinoids CBD in Hemp oil produced from hemp seeds.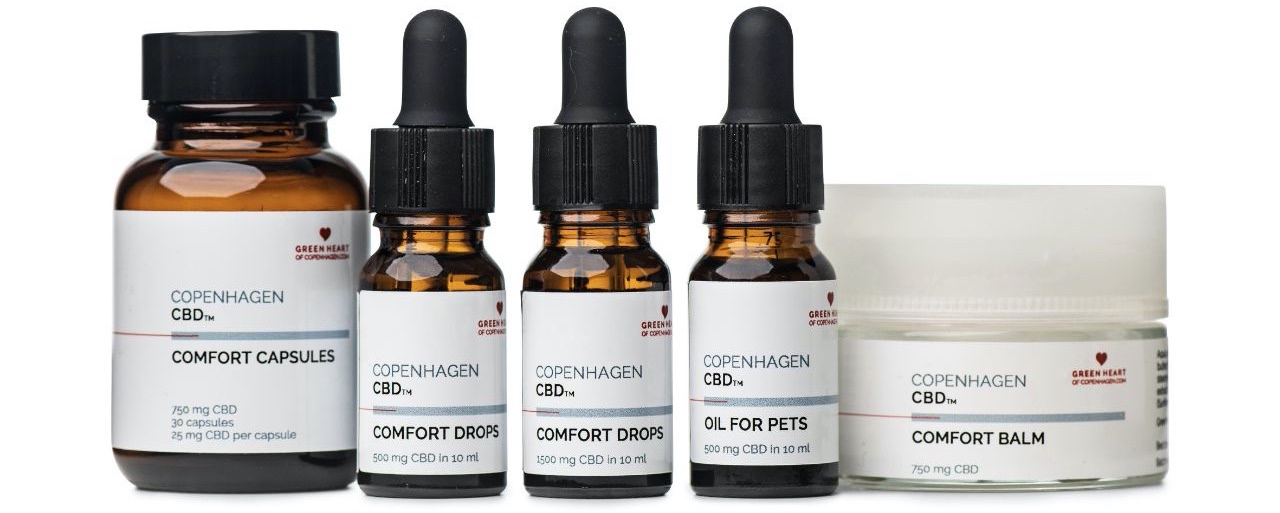 CBD's mode of action is mainly through activating other neurotransmitter systems in the brain, body, and immune system. This includes working on serotonin, vanilloid and other types of receptors to change chemical messages in the brain and body influencing everything from stress to inflammation and immune function.
CBD on its own is non-intoxicating and does not get you high. CBD is a non-habit forming and non-addictive.
CBD has therapeutic potential and medicinal properties that include analgesic properties (pain management), anti-anxiety and antidepressant, anticonvulsant, antioxidant, anti-nausea, anti-acne effects and counteracts THC intoxication.
The benefits of using CBD
The way CBD makes you feel is as unique as the reasons you decided to try it. CBD is all about balance. In some cases, it may support your focus and energy.
The human body contains a specialized system called the endocannabinoid system (ECS), which is involved in regulating a variety of functions including sleep, appetite, pain and immune system response.
The body produces endocannabinoids, which are neurotransmitters that bind to cannabinoid receptors in your nervous system. Studies have shown that CBD may help reduce chronic pain by impacting endocannabinoid receptor activity, reducing inflammation, and interacting with neurotransmitters.
CBD may offer an option for treating different types of chronic pain. A study from the European Journal of Pain showed, using an animal model, CBD applied on the skin could help lower pain and inflammation due to arthritis. Another study demonstrated the mechanism by which CBD inhibits inflammatory and neuropathic pain, two of the most difficult types of chronic pain to treat.
CBD is commonly used to address anxiety, some of the most popular uses for CBD are when people are out in public and are asked to make a big presentation.
When using CBD to calm down, it is often described as a temporary relief. Working out puts a lot of wear and tear on our muscles, leaving us sore. For those who struggle to get out of bed the day after exercising, CBD may be able to come to the rescue.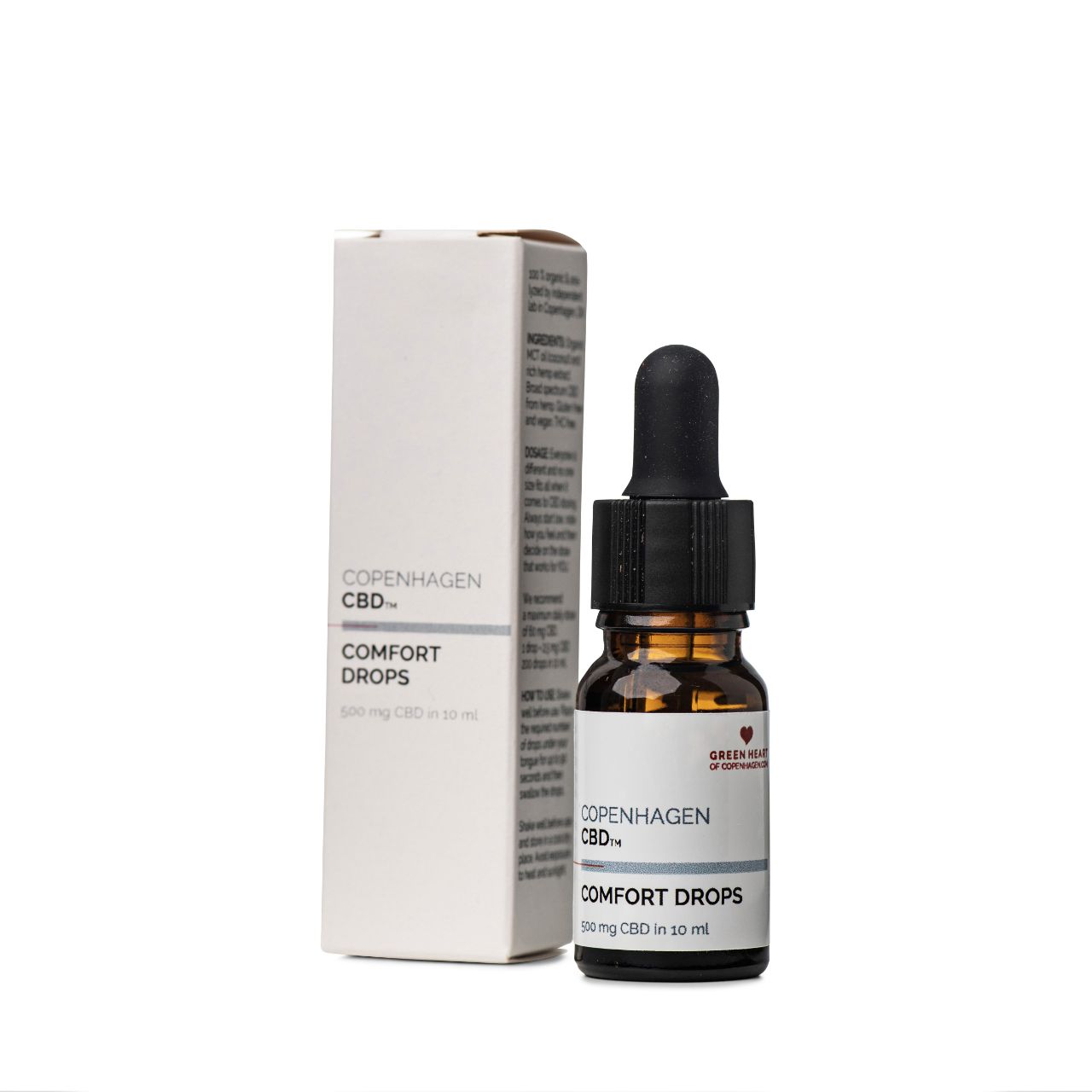 CopenhagenCBD Comfort Drops
Our certified organic CBD oil tincture is crafted with premium ingredients and delivers the natural flavor.
It can be enjoyed day or night to promote calm and overall wellness.
Identifying quality CBD products
One of the largest questions facing consumers are "How do I know that my CBD product is reliable and safe to use".
Ingredients are important. The combination of ingredients not only defines the quality of experience but also influences the effects on the body.
Natural, organic ingredients have better effects on health than artificial chemicals. Are the products 100 % organic and is the CBD extracted using the high-quality CO2 extraction process?
Is the company trustworthy, does it operate with high level of transparency? Do you know who the owners are? Are the owners accessible?
What are the company values and why do they choose to sell CBD products?
Companies that are willing to reveal their business practices openly, welcome discussions and customer opinion on them are naturally more preferred.
Reputable companies have their products evaluated by an independent third-party testing site, as an extra reassurance to consumers that their products include what it says it does. To verify the authenticity and quality of the CBD products and their respective Certificate of Analysis ask the seller to provide you with the certificate.
Investigate if the testing lab is ISO accredited, validate that all identifying information is present – batch number, product name, company name and contact, lab name and contact. Check for a verification or code on the Certificate – it should link to the laboratory website to verify its authenticity.
While the quality and performance must be top-notch, customer service cannot be lacking in any way. Like customer service, a website's user experience determines how likely a customer is to place an order. A CBD company's website must be easy to navigate, should guide visitors through all the best options, and project the best possible deals in an easy-to-find manner. The customers must feel they're getting the best deal without having to scour through the entire website to get what they want. The idea is to give them a good browsing experience while shopping CBD online.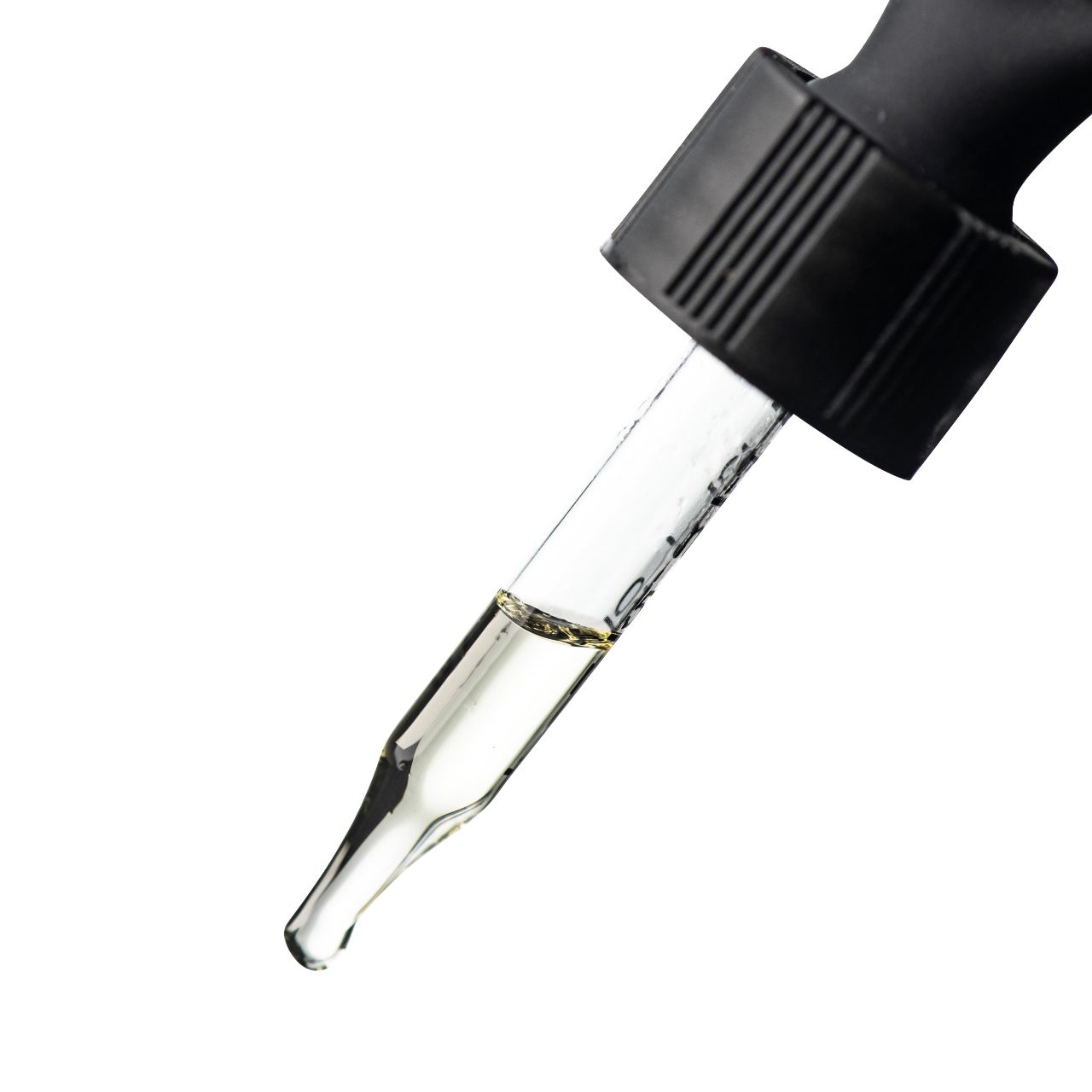 How to get started with CBD including finding the right dosage
Everybody's been talking about CBD oil and its long list of health benefits. You've shopped around and found a high-quality CBD product to start yourself off with and you're ready to get started. So now what? How much do I take? Can I take too much? What is the normal dose of CBD?
Finding the ideal CBD dosage is dependent on several factors, including the individual's weight, diet, metabolism, other medications, genetics, and medical condition, as well as the formulation and quality of the CBD. Therefore, it is not yet possible to develop universal CBD dosage guidelines that work effectively for everyone, but well-educated estimates can still be made using the limited information currently available.
The best way to find the right dose for your body is to start with a low dose and increase the dose until you find what works best for you. If you experience side effects such as fatigue or grogginess, then reduce the next dose to the last amount that did not cause any negative effects. Additionally, you might find it useful to record your daily experiences in a notebook so you can accurately narrow in on what works and feels best for you.
How to calculate dosage: Some products, such as CBD gummies, capsules, or pills, tell you how much is in a single serving.
For example, the packaging on a bottle of CBD capsules might indicated that there are 25 mg of CBD per capsule. If you are using CBD oil, it will likely come in a dropper bottle. The packaging might specify how much CBD is in a single drop. From there, you can figure out how many drops you need to use.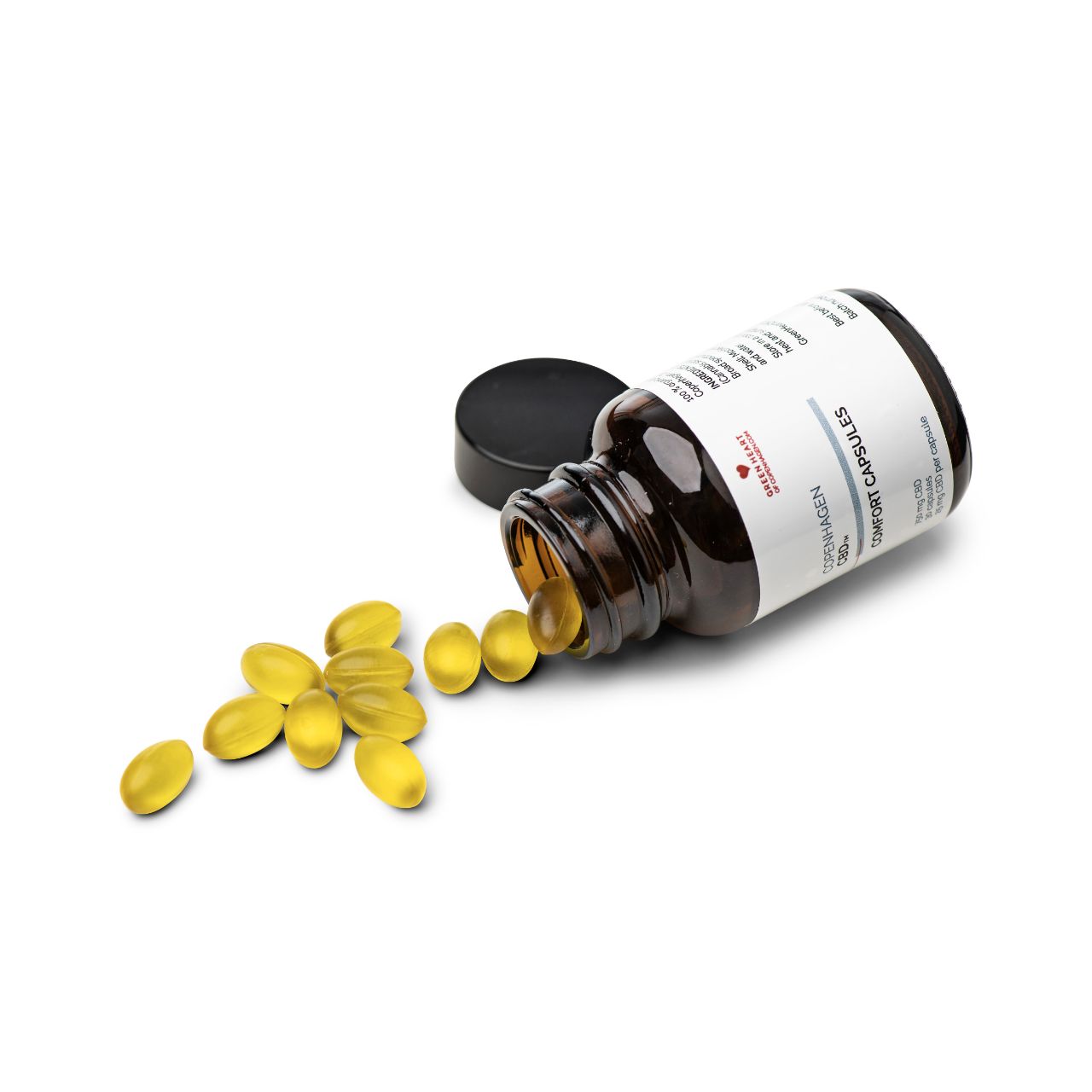 CopenhagenCBD Comfort Capsules
CBD softgels are formulated to give you predictable results in an easy-to-swallow format.
Each capsule contains 25 mg of certified organic CBD Oil.
Sometimes it is harder to figure out how much CBD is in one drop because the packaging specifies the total amount of CBD in the entire bottle, but not the amount that will be in a single drop. One drop is about 0.05 milliliters (ml). This means that a 10-ml bottle of CBD oil contains 200 drops.
It is a good idea to try CBD for the first time when you do not have anywhere to be. That way, if you just do not feel like yourself, you can sleep it off.
Try taking your dose early – like before the day really ramps up.
While some people like a little CBD in their cocktails, skip the alcohol when you are first trying CBD so you can really zero in on the effects.
Methodical approach and be patient….
Decide on your method of delivery (CBD oil, capsules, topical, etc)
What symptom do you want to treat?
Verify recommended books and research for information whether CBD may assist with your symptom
Take a small dose of CBD (always measure CBD by mg only) and repeat over 1-3 days, titrate up little by little to desired effect
If no effect, try higher dose
If you feel benefits, look for the "sweet spot" dose – often you have to pass it up to find it!
If you find that the product works, you have "ruled it in" – give it more time to see if more benefits or you can try adding in another product if needed
If no effects, you have "ruled it out" – move on to another product.
Log your journey
Keep a log or journal of product name, dosing and timing. Pay attention to how long the product took to kick in, how long it lasted and how you responded.
It may be a good idea to take a picture of the product you are using so you can easily remember.
CBD is not "one size fits all" – people with the same condition do not respond the same way.
Make sure you always check the label and have seen the COA (Certificate of Analysis) so you understand exactly what you are getting.