What is CBD oil?
CBD oil is a natural oil which is extracted from the flowers and leaves of the cannabis plant. It is used by people all over the world for a variety of purposes.
Will CBD get me high?
No. Unlike marijuana and THC, CBD is non-psychotropic and is extremely unlikely to cause a high. 
What are cannabinoids?
Cannabinoids are active compounds produced by all cannabis plants. They account for most of the benefits of cannabis. Cannabinoids found in plants are technically called phytocannabinoids, while cannabinoids produced by the human body are called endocannabinoids. Cannabinoids interact with the body's endocannabinoid system (ECS), which promotes homeostasis.
How does CBD work?
CBD's effects are a result of its interaction with the endocannabinoid system. CBD impacts the ECS indirectly, most often through activation of outside receptors and interaction with enzymes.
What is hemp seed oil?
Hemp seed oil is distinct from CBD oil. While CBD is extracted from the cannabis plant's flowers, hemp seed oil is produced by pressing the plant's seeds. Hemp seed oil is similar to other seed oils such as corn oil and sesame oil. Hemp seed oil has its own benefits, but it does not contain cannabinoids such as CBD.
What is the difference between CBD and hemp?
Hemp is a variety of cannabis that is grown for food and fibers. CBD is a molecular compound found in the plant's extracts. Our CopenhagenCBD is extracted from a proprietary strain of hemp far richer in CBD and other cannabinoids and terpenes than the basic hemp plant used by most CBD producers.
Is your product safe?
There are no known incidences of illness caused by consumption of CBD oil. Also, all CopenhagenCBD products undergo rigorous testing to guarantee they are free of any potential contaminants.
Where are your products available for purchase?
The CopenhagenCBD products are solely available online in our shop on this website. Welcome!
How fast will I get my ordered products?
Orders are packed daily Monday to Friday.
Your order will deliver within the subsequent five week days (Monday to Friday) after being packed and shipped to you.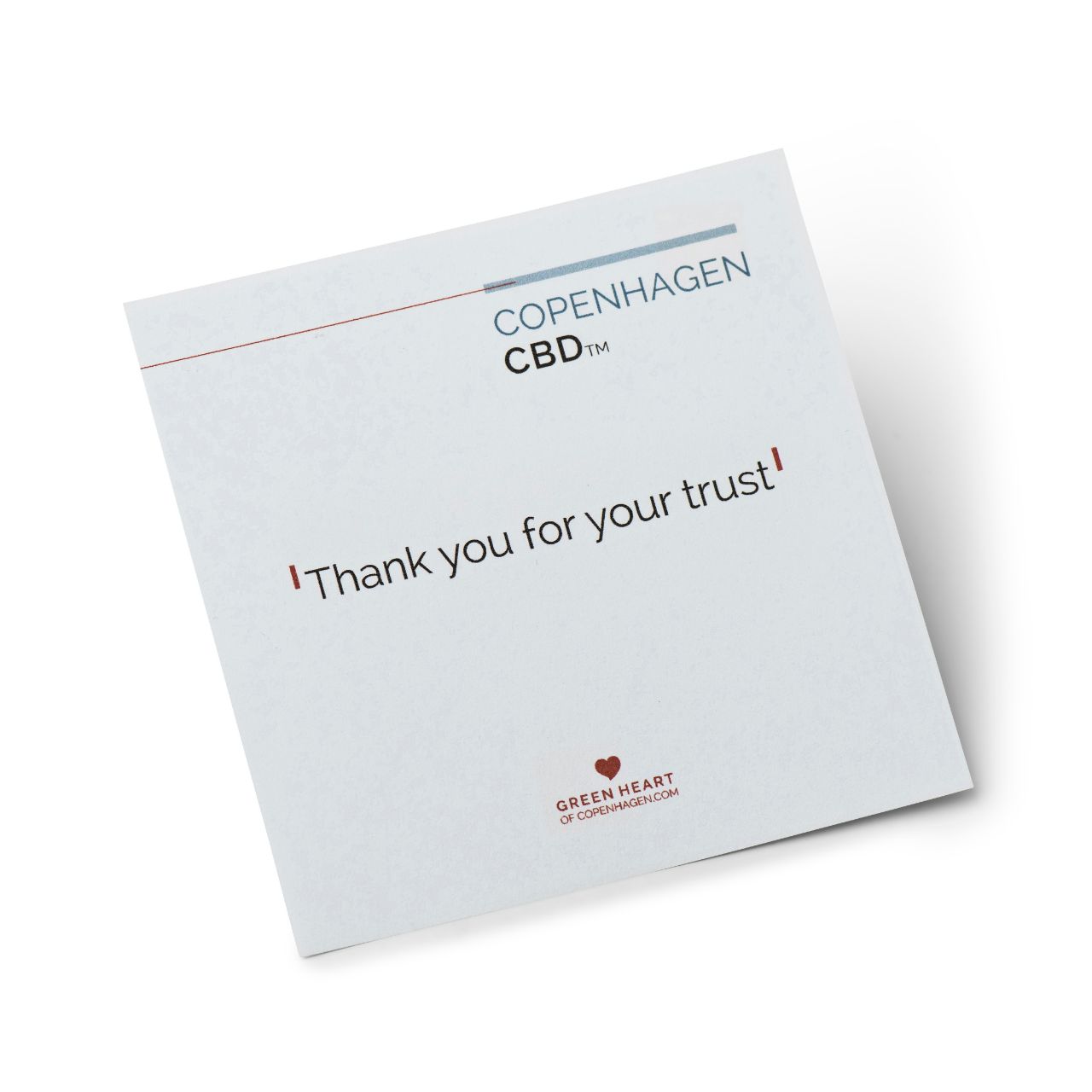 This little guide is created to ensure your success with CopenhagenCBD.
It is included with all product purchases.